Calcium/Mineral Supplements
Your cat & dog need their minerals!
NOTE: If you are interested in purchasing one of the below products, please contact me. S&H cost are posted in parenthesis. Once you send me your order I will email you a PayPal invoice receipt. When I receive payment the item will be shipped USPS usually within 24 hours (excluding weekends and holidays). Thank you!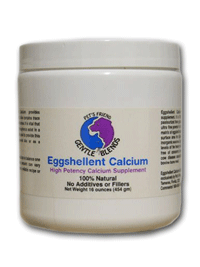 EGGSHELLENT CALCIUM High Potency, Bioavailable, Calcium from Eggshells
Contents – 16 oz. (453 kg)
Price: $22.00 (+ $10 S&H) SALE PRICE: $17.60

Eggshellent Calcium is the animal origin alternative to bone meal as a calcium supplement. Eggshellent Calcium is made of 100% finely powdered heavy metal free eggshells. There are no fillers or additives, just pure eggshell powder providing approximately 1900 mg. of calcium per teaspoon.
Read this informative article: "Source of Dietary Calcium: Chicken Egg Shell Powder" CLICK HERE.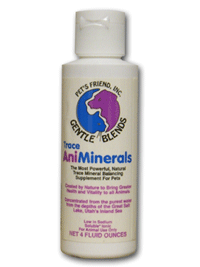 Trace AniMinerals
Natural Trace Mineral Balancing Supplement for Pets
Contents – 4 fl. oz.
Price: $15.95 (+ $3.99 S&H) SALE PRICE: $12.76
AniMinerals is a concentrated solution of naturally occurring trace minerals, the "spark plugs" of life. Other pet supplements often get minerals from powdered clay, rocks or fossilized materials, which are difficult to digest. The minerals in AniMinerals are in solution and waiting to be rapidly assimilated. Minerals play a vital role in every cellular process. Even vitamins require them to function. Mineral deficiencies have been linked to great number of today's chronic illnesses.
AniMinerals is so concentrated that 1/2 tsp. contains the mineral content of 1/2 cup of sea water, with 99.5% of the sodium removed. It is safe for regular and sodium-restricted diets.
Contents (1/2 tsp)
Magnesium 250 mg
Sulphate 7.5 mg
Sodium 4.5 mg
Chloride 680 mg
Potassium 5 mg
Lithium 1 mg
Plus the following in naturally occurring varying trace amounts:
Calcium, Gold, Manganese, Carbon, Chromium, Selenium, Bromine, Cerium, Vanadium, Fluorine, Barium, Dysprosium, Nitrogen, Rubidium, Titanium, Iodine, Iron, Ytterbium, Copper, Silicon, Praseodymium, Zinc, Yttrium, Beryllium, Boron, Molybdenum, Gadolinium, Phosphorus, Tin, Germanium, Nickel, Gallium, Bismuth, Cobalt, Silver, Europium
Directions:
Daily Use:
1 drop per 1-2 lbs. of body weight up to 1 tsp. (about 80 drops) in pet's food. If AniMinerals has a slight natural laxative effect, reduce dose by 1/2 and increase slowly while pet's system becomes accustomed to the increased mineral nutrition until maximum benefit is obtained. Somewhat higher amounts are safe if needed, but larger amounts may create a laxative effect.
Drinking Water:
To restore mineral content of distilled or reverse osmosis water, add 1/2 tsp. (40 drops) per gallon.
If pet is not eating, under stress (competition, travel, illness, etc.) or for more rapid effect, put 1/4 – 1/2 daily dose into gelatin capsule and administer directly to pet. Repeat as needed.
DISCLAIMER: These statements have not been evaluated by the Food and Drug Administration. Products listed on this site are not intended to diagnose, treat, cure, or prevent any disease. The information here is presented for educational purposes only and is not designed to replace medical treatment and diagnosis. We recommend that you consult with a licensed veterinarian before using any products or if you have any questions regarding the health of your pet.