Probiotics
Use probiotics/enzymes for digestive health & a stronger immune system.
NOTE: If you are interested in purchasing Pet's Friend FloraZyme LP or NWC Naturals Total-Biotics, please contact me. There will be a $3.99 S&H charge in addition to the listed price. Once you send me your order I will email you a PayPal invoice receipt. When I receive payment the item will be shipped USPS usually within 24 hours (excluding weekends and holidays). Thank you!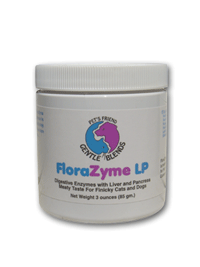 FloraZyme LP
Digestive Enzymes with Liver and Pancreas
Meaty Taste for Finicky Cats and Dogs
Contents – 3 oz. (85 gm)
PRICE: SOLD OUT
Product Information
For optimum vitality, proper digestion of nutrients is essential. FloraZyme LP contains concentrated plant and pancreas enzymes to replace those lacking in pet foods. Friendly bacteria help maintain normal intestinal function. Pancreas and liver have essential vitamins, minerals and other nutrients.
1/2 teaspoon contains the following, in a base of 150 mg. vacuum-dried liver:
Fungal Protease 12,000 HUT
Fungal Amylase 4,000 DU
Fungal Lipase 50 LU
Fungal Cellulase 67 CU
Lactobacillus acidophilus 400 million
Bifidobacterium longum 200 million
Pancreas Concentrate 75 mg
Protease 15,000 USP units
Amylase 15,000 USP units
Lipase 2,400 USP units
Directions
Mix 1/2 teaspoon per cup of food in EVERY meal. Double amount for first month and during times of physical stress. Allow 4 to 6 weeks for results. It may be necessary to introduce FloraZyme LP in small amounts and increase dose slowly. May be used in any non-vegetarian pet's diet.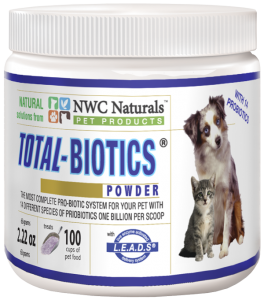 NWC Naturals Total-Biotics.
Contents – 2.22 ozs. (100 servings)
PRICE: SOLD OUT
New! Better than ever. More Strains and More CFU's. Now with double the probiotics. Total-Biotics utilizes 14 of the most productive live and stabilized probiotics available. Now an average serving has 2 Billion CFU's. The only probiotics used are researched and developed by Dr. Khem Shahani. Acidophilus DDS-1 strain- researched and developed by Dr. Khem Shahani for over 77 years, this Acidophilus is the most effective probiotic strain. It's called the "sticker strain," Acidophilus because it has the ability to actually cling to the intestinal wall without harming it. Total-Biotics also use the only patented stabilized glutamine in the world the MGG chelate. This addition of the chelated glutamine to Total-Biotics greatly improves the stability and colonization characteristics of beneficial bacteria in the pet's intestinal tract and is an essential nutrient that is required by the intestinal cells. It can actually help repair a damaged intestinal tract. That is why Total-Biotics formula is far superior to the others. Exclusive to NWC Natural Pet Products they have the only Live Enzyme Activated Delivery System without this L.E.A.D.S. system the probiotics will not delivery quickly and will not be as efficient. °Average serving is two scoops for two cups of food for an average pet."
CLICK ON THE BELOW PHOTOS FOR MORE INFORMATION OR TO BUY:
Pet Flora by Vitality Science (above) is a Soil Based Organism. Have you ever seen your pet eat grass, pulling at the roots? This behavior is your Pet treating themselves with SBOs. Vitality Science takes the Soil Based Probiotics and then adds Humic and Fulvic acids, extracted from ancient plant deposits. Some other Probiotics are cultivated from non organic dairy which is less effective and may even cause more problems for aminals that are lacto-intolerant. Every cat and dog is subject to a multitude of stresses throughout the day, including; travel, boarding, separation anxiety, sickness, eating different foods and objects or processed food. All of these factors can contribute to an imbalance of "friendly" and "unfriendly bacteria." It is especially important to give your pet Pet Flora after taking antibiotics. Antibiotics are designed to kill bacteria that causes infections, unfortunately they also kill the "friendly bacteria." Pet flora Works fast to replenish the microflora and restore balance in your pet's gut, then promotes and maintains a healthy intestinal tract. Unless you are dealing with a chronic imbalance, a few double doses will quickly resolve most GI upset.
Super Pet Enzymes for Cats & Dogs – Protein Digesting & Anti-Inflammatory ~ These are high potency, plant based, complete spectrum food digesting and anti-inflammatory enzymes. Super Pet Enzymes does more for less than any other enzyme product. This is the only enzyme formulation to include enzymes for every possible food group: sugars, grains, fibers, milk, meat, broccoli, and more. We also include substantial levels of Bromelain and Serrazimes, both are protein-digesting and anti-inflammatory. Frequent diarrhea and/or vomiting are among the top 5 reasons for Veterinarian visits. Gastrointestinal (GI) disorders often have an enzyme deficiency element. If not remedied these disorders may become chronic, setting the stage for life-threatening diseases, such as feline leukemia. You can protect your pet by using Super Pet Enzymes.
Total-zymes® powder digestive enzyme is a high performance broad-spectrum digestive enzyme formula. Total-zymes® is the most complete pet digestive enzyme product in the world, now utilizing 16 high performance plant based enzymes and L.E.A.D.S.® Live Enzyme Activated Delivery System®. L.E.A.D.S.® insures complete digestion and assimilation of all your pet's food at a cellular level. ONE JAR TREATS 365 CUPS OF PET FOOD! A growing number of vets are stating that cooked or processed pet food is the main cause of illness and premature death in the modern house pet! Animals are meant to eat a 100% raw diet! Add Total-Biotics® for the optimal health of your pet. Look for the Original Total-Digestion Twin pack for both products together.
•Supports renal function in cats and dogs.
•Reduces axotemia in cats and dogs.
•Slows down toxin buildup in the blood.
•Help prevent further kidney damage.
•Can be used with Epakitin.
New hope for compromised kidneys through targeted use of beneficial bacteria. Introducing Azodyl, breakthrough bacterial product for the reduction of azotemia in dogs and cats. Refrigerated item, requires overnight shipping.
Azodyl capsules should be given whole and not opened or crushed. If necessary, administer capsule with a piece of the animal's favorite food or treat. Keep refrigerated at 4˚ C (39.2 F) for best results. Fresh water should always be available for the animal.
DISCLAIMER: These statements have not been evaluated by the Food and Drug Administration. Products listed on this site are not intended to diagnose, treat, cure, or prevent any disease. The information here is presented for educational purposes only and is not designed to replace medical treatment and diagnosis. We recommend that you consult with a licensed veterinarian before using any products or if you have any questions regarding the health of your pet.